---
Thurleigh Baptist Chapel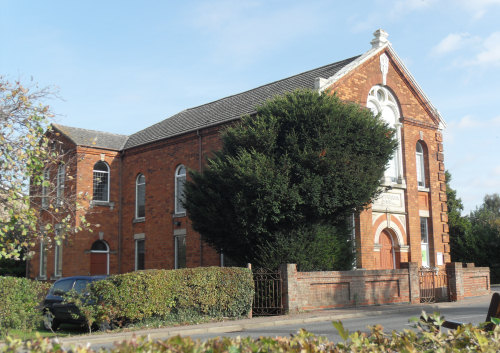 The Chapel is now privately owned, with plans to convert into residential property. The Baptist Chapel was built in 1888, replacing an earlier building which had stood on the grassed lawn to the side of the current building.
In recent years the congregation merged with the Keysoe Row Baptist chapel, there is also a close working partnership with St Peter's Church Thurleigh, Both these two locations are used for services.
Moderator: Rev'd Peter Protheroe - 01234 378806
---
Adventurers and Explorers
Sundays at 9:30am at Milton Ernest School. Adventurers is for ages 3-9, whilst Explorers is for ages 9-13. Please see The Villager for details.

House Group
There is a regular House group held at the Vicarage, where people come together to spend time in worship, prayer and Bible study. Ask the vicar for more details.

Discussion Group
A discussion group is occasionally held on Monday nights at the Jackal to discuss God, faith and the world. See The Villager for details.

Chapel Groups
A monthly prayer group meets in the barn next to Keysoe Row Chapel on the 3rd Thursday in the month. See The Villager for details.
---
Village Charities & Trusts
Harvey Trust
The Harvey Trust is an ancient village trust set up to help villagers of Thurleigh experiencing hardship. Today this is financial assistance in times of illness, disability, bereavement, hardship or any other emergency for any resident of the village. The trustees are all members of the local community so if you, or someone you know in the village, is in need of assistance, please call.

The Free School Trust
The Free School Trust (or The George Franklyn Trust) was set up in c.1618 by local landowners and later was established as a charitable Foundation in 1899 as a method of distributing grants specifically to 'support educational needs'. The grants are available to children whose parents have been residents of Thurleigh for 2 years. Recent grants include funds for school exchange visits, field trips and some university expenses. Mature applicants with educational aspirations are also eligible.

The "Villager" Magazine
The Villager is a monthly church, chapel and community magazine for Thurleigh, Milton Ernest and Pavenham. It contains reports on village activities such as and the Ladies' Club, Parish Council reports, diary dates for community events, schedules of services at St. Peters and the Baptist churches and so on. Articles on most village subjects are welcome.

Articles and Subscription info - see contacts in the Appendix
---
Clubs and Associations
Thurleigh Playing Field Social Club
Opened 25 years ago, the club has over 300 members from the village and surrounding area. Membership is open to all over the age of 16 and currently costs £3.50 for the first year and £3 for subsequent years. The bar is open every evening 7:00 - 11:00pm, Saturdays from pm and on Sunday lunchtimes. Regular events include Bingo Nights on Thursday and Sunday evenings at 8:00pm, barbeques and music evenings. The Club also has skittle and darts league teams. However, on certain functions, e.g. The Annual Bonfire Night, non-members are allowed to see what is on offer. The clubroom is available to hire for parties, receptions and other events by members. For further information please call the Secretary.

Cricket Club
Thurleigh has two cricket teams, whose home ground is Thurleigh Playing Field and who play on Saturdays over the summer months. In addition there is a midweek team, which normally meets on a Wednesday. It is not necessary to be a resident of the village to join the cricket teams, nor is there any age restriction. Match fees are £3.00 for a Saturday match (starting at 2:30pm) and £1.50 for the mid-week game.

Football Club
A Football club is being formed, watch out for information.

Sunbeam Over 50s Club
The Sunbeam Club for the over 50's meets at Thurleigh Playing Field Social Club on the 2nd Tuesday of each month (except August) at 2:30pm where there may be a speaker or a game of bingo. Outings and other events take place throughout the year. To join just come to a meeting or ring the secretary.

Ladies' Club
The Ladies' Club (not affiliated to any other organisation) meets on the third Tuesday of every month in the village hall at 10:30am-12 Noon, new members are assured of a warm welcome.

Bell Ringers
St Peter's has a band of Bell Ringers who ring on special occasions and at weddings by request.

Walking Group
Walk on the 3rd Wednesday of every month, walks are usually 4years 6 months - 6 miles and always end in a pub for lunch (Full meal or light bite - your choice) All are welcome: Regular walkers, Occasional walkers, Visitors and Holidaymakers

Rainbows, Brownies, Girl Guides & Rangers

Rainbows (girls aged 5 - 7) meet in Bolnhurst, Thursdays, 6:00 - 7:00pm
Brownies (girls aged 7 - 10) meet in Milton Ernest, Tuesdays 6:00 -7:30pm or in Lt. Staughton on Wednesdays 6:30 - 8:00pm
Guides (girls aged 10 - 15) meet in Pertenhall Village Hall on Mondays 7:00 - 8:30pm
Rangers/Young Leaders (girls aged 14+) meet in Bushmead on Tuesdays 7:30 - 9:30pm
Beavers, Cubs & Scouts
All clubs meet at Colmworth Village Hall
Beavers (boys aged 6 - 8) - Mondays 5:30 - 6:30pm during school term time
Cubs (boys aged 8 - 10 years 6 months) - Mondays 6:40 - 8:10pm
Scouts (boys aged 10years 6 months - 15years 6 months) - Thursdays 7:15 - 9:15pm
---
---
---
Saturday 2nd of December 2023 07:30:36 PM